Rotary Poultry Manure Dryer Machine also is known as fresh chicken manure dryer machine which can be used to heat and dry fresh manure directly, and in one time to get dried manure with moisture content less than 15%.
Rotary Poultry Manure Dryer Machine (Chicken manure dryer) brings much convenience for the manure drying project. Chicken manure drying machine is very helpful for environment production. Chicken manure dryers can directly dry livestock's manure with 75-80% moisture content into about 15%, which is convenient for the production of organic fertilizer. In addition, the entire drying process is conducted in a closed system to reduce noise pollution.
Sunco Machinery is one professional rotary drum dryer manufacturer especially for drying high humidity material such as fresh chicken manure, sludge, etc. The rotary poultry manure dryer has reasonable price and higher capacity. Compared with other animal dung dryers, Sunco Machinery poultry manure dryer machine has higher efficiency and longer life expectancy. You can take a visit to get more information.
The purpose of Rotary Poultry Manure Dryer Machine is to dry the chicken manure and add chemical elements in it to make fish feed and fruit tree feed. The outstanding performance feature of chicken manure drying machine is dedusting and deodorization, so that the fresh chicken manure can be turned into pig feed and even waste can become organic fertilizer. The whole running process of the chicken manure dryer is closed, thus not only reducing the pollution to the environment but saving energy and land occupation and protecting the environment.
Structure and Working Principle of Rotary Poultry Manure Dryer Machine:
Rotary Poultry manure dryer (Chicken Manure Dryer Machine) is made up of heat sources, feeding machines, rotary drum, material crushing equipment, discharging device, fans, unloading machine and distribution cabinet. Wet materials are added to the dryer after being dehydrated. With the turning of the drum, the materials are evenly dispersed to full contact with the hot air, which has speeded up the heat and mass transfer. During the drying process, the materials are discharged through the star-shaped discharging valve with the help of hot air and the tilted plate.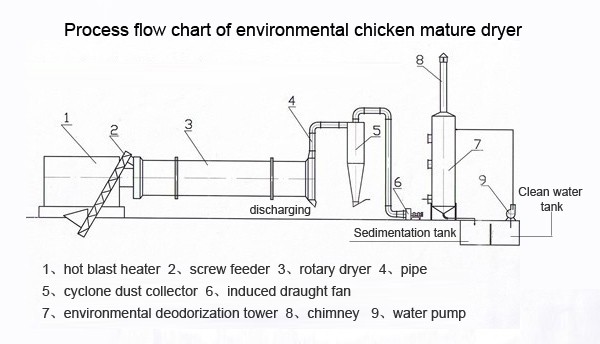 Features of Rotary Poultry Manure Dryer Machine:
1. Chicken dung dryer has high mechanical degree and continuous operation, and its production capacity is large.
2. Excellent and simple structure, smooth running when materials pass through the cylinder, and ease operation.
3. Less fault information, low maintenance cost and low power consumption.
4. Chicken manure dryer has wide application, and its drying uniformity of product is good.
5. Achieving the purpose of sterilization and deodorization while drying materials is available.